Romantik Hotel Neuhaus. Your Urban Retreat - private, close to nature, authentic.
The history of this house in the Sauerland, surrounded by a sculpture garden, dates back to 1753, in which the charm of a bygone era is lovingly preserved to this day, without sacrificing comfort.
The 4-star Romantik Hotel Neuhaus in Iserlohn-Lössel offers a creative and varied cuisine, is a place for connoisseurs and an address for people who love a bright, friendly, modern atmosphere with pleasant and noble colors and appreciate a tension between modernity and tradition.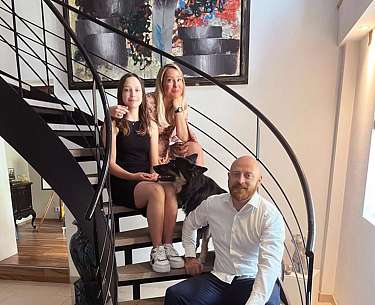 Your hosts
Welcome to the Waldstadt Refugium Neuhaus. Surrounded by art and nature - an idyll to feel good. The Hotel Neuhaus has been family-owned since 1913, and our years of experience set us apart. In this exceptional 4-star hotel you can feel more than comfortable.
Contemplation - relaxation and active regeneration behind historic walls form a unity with a stylish way of life and honest feelings; for everyone in their own individual way. A way of life at the highest level.
Direct booking advantage!
Book directly with us at the hotel - by phone, e-mail, fax or simply and quickly via our online booking and secure the best prices and the best conditions. Book now!
Rooms at Romantik Hotel Neuhaus
Arrive and feel good
Child Friendly
Fitness
Free Wifi
Meeting Facilities
Outdoor Pool
Parking Area
Pets Friendly
Quiet Location
Sauna
Terrace
Culinary at Romantik Hotel Neuhaus
Cooking - Art - Creativity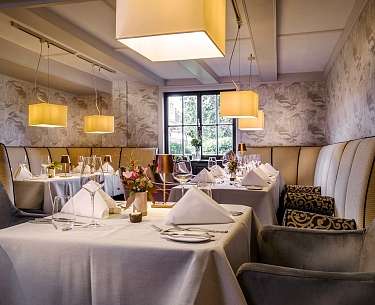 Just as the mood takes you and of course your appetite!
Conscious enjoyment in a modern and fresh ambience - that is what our Neuhaus Restaurant offers. Feel in good hands and indulged as a guest. We always have an open ear for your individual wishes. A rich selection of culinary delights awaits you from our creatively versatile kitchen with changing seasonal specialities - from international specialities to Sauerland cuisine and vegetarian delicacies.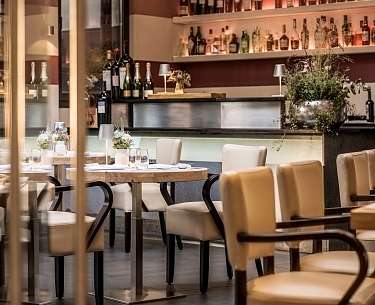 Bistro Julius
Chic, trendy, bright and open. Stop in with friends and immediately feel at home. Our Bistro Julius is always a good address for a tasty and spontaneously planned day or evening. Through the light-flooded atrium or directly on our sun terrace in summer, it adds that lightness to the day.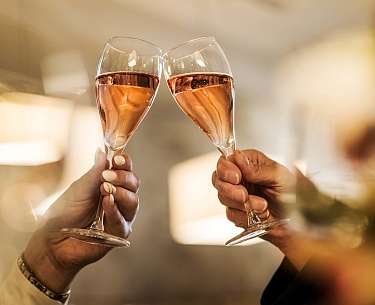 Bar
To round off a successful day, enjoy a glass of wine, a cold beer or a glass of our Neuhaus Gin.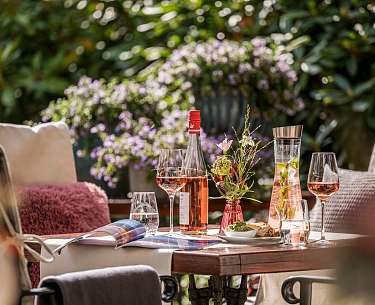 Sculpture Garden
In summer, enjoy fresh delicacies or a juicy steak from the grill in our sculpture garden with refreshing cocktails or a cool light summer wine.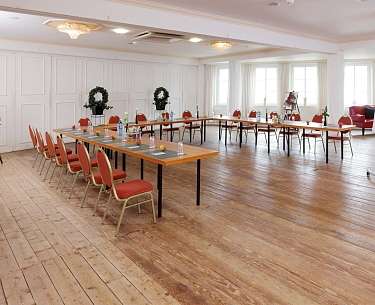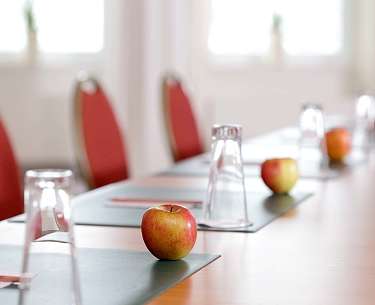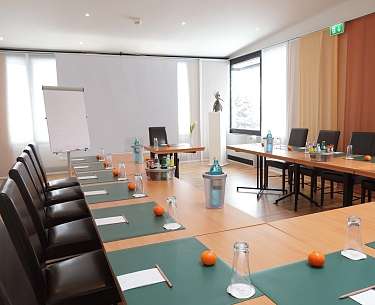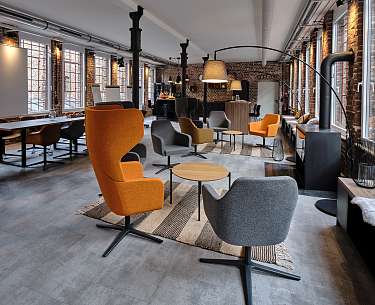 Conferences and Banquets in the Waldstadt Iserlohn
Conference - Meetings - Incentives
Productive and creative in the green. Your conference in a romantic hotel of a special kind and with attention to detail. Working should be fun and feel good. Because the success of an event does not only depend on the suitable conference room. The physical well-being plays an equally important role. Good food means satisfied guests, shared enjoyment promotes team cohesion, and ideas flow all by themselves.
Our hotel offers conference and meeting rooms for different numbers of participants with equipment and services individually tailored to your needs.
Are you looking for a location for creative formats? Our partner Qwörk offers exciting possibilities in a unique atmosphere in the former factory Kissing & Möllmann. In combination with a catering by the Neuhaus team the perfect place for extraordinary formats.
Celebrate your wedding in Iserlohn
Weddings - More than just a "YES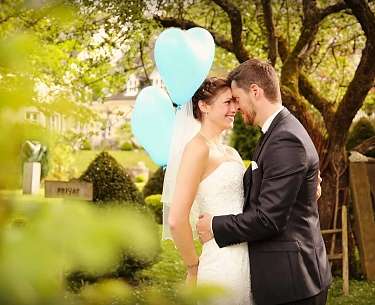 Your party
Have a look at our wedding brochure
Our hotel has the right feeling for every wedding.
Together with your wedding planner and event coordinator "Chiara Lauer", your wishes and dreams become reality - whether it's a champagne reception in the green or on our summer terrace, theme weddings or a glittering wedding celebration in our hall. We have space and facilities for 20 to 150 people.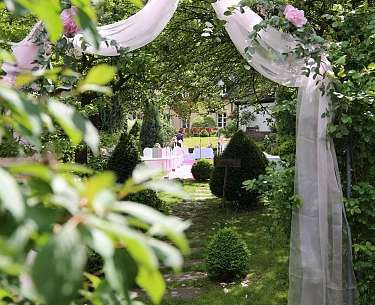 Garden wedding ceremony
In our unique, romantic sculpture garden, under leaves, trees and rose petals, your day will become the most beautiful day of your life - your dream wedding.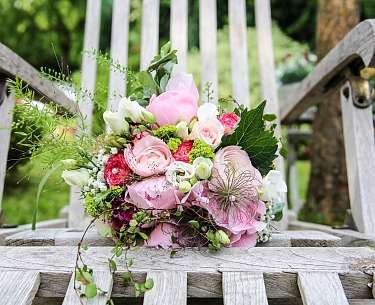 Unser Service für Sie
For an all-round relaxed day, we and our partners support you with the wedding preparations, organize a wedding car and your wedding photo shoot in the garden or by the pool.
Put your celebration in the right light:
Romina Nowosatko von Photominagraphy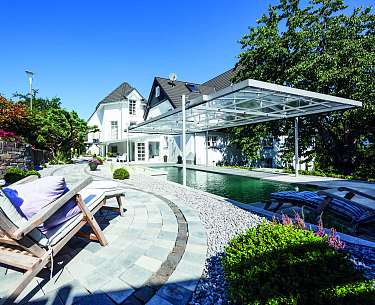 Nature Pool
Our outdoor area offers sunbathing areas, a covered seating area, an outdoor shower, a Kneipp pool and our outdoor pool! The heated, weather-protected and organically cleaned outdoor pool blends in wonderfully with the newly designed garden. Open daily from 8.00 am to 9.00 pm and from April to middle of October for you! After that the pool is closed due to weather conditions.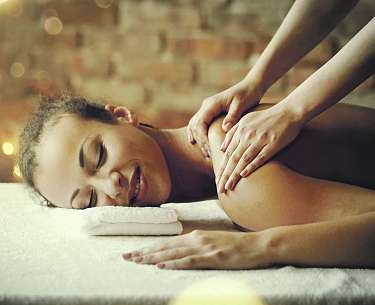 SPA Treatments
Cleanse yourself and your body and experience a world of peace and security. We bring your body, your mind and your soul into harmony. Browse through our SPA magazine and put together your individual treatment.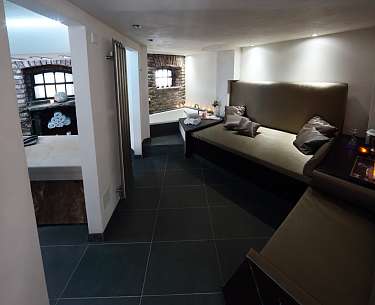 Private Spa
SPA & WELLNESS AT THE HIGHEST LEVEL
A successful symbiosis of historic walls and technology down to the smallest detail - our private spa. Experience unique moments of well-being exclusively in our private spa, newly designed in 2014. Awarded the German Wellness Certificate, a wonderful world of aromas and wellness experiences unfolds in the old country house surrounded by the sculpture garden. Integrated into the spa is the Horizontal Shower, an experience shower designed by Dornbracht. These are unique moments that enrich and strengthen you with energy and joie de vivre. The special feature: enjoy showering while lying down. Look forward to it!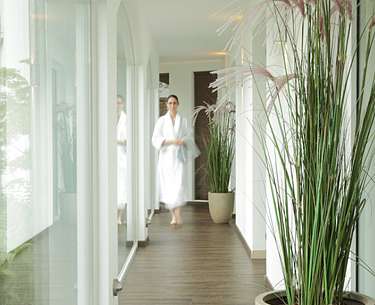 Day Spa
Neuhaus Day Spa is a place of inner balance and harmony. Take time to breathe deeply and pamper your body. Depending on your mood and mood of the day, relax on several hundred square metres over two floors after a strenuous day or a busy week: just for yourself. Immerse yourself in the world of the spectrum of our coloured light sauna. Relax during your stay in the sanarium.
Cancellation information
Treatments that are not cancelled at least 24 hours before the start of the treatment will be charged at 80% of the treatment price, appointments that are not kept will be charged at 100%.
Thank you for your understanding.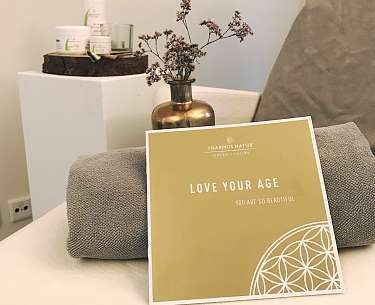 Pharmos Nature
Our secret recipe: dedication, experience and especially powerful natural products for your joie de vivre! With our exceptional, high-quality product - Pharmos Nature - you experience beauty care from the inside out - nature that works. Lasting regeneration can slow down the ageing process, make the skin radiant and even initiate rejuvenation processes.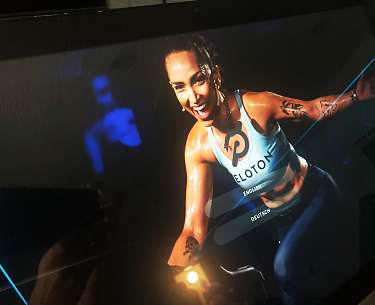 Workout experience with the Peloton Bike
Workout experience with the Peloton Bike
When I sit on the Peloton bike, equipped with a cup holder, small dumbbells and an oversized screen mounted on the handlebars, I train with the whole world via livestream - and the whole world with me. I control it via the touchscreen. I create a user profile and can arrange to train with others, cheer them on or compete with them via a real-time ranking list. The courses can also be started at any other time. Whether I participate live or not is up to me. As an alternative to the courses, you can also ride real routes in the Alps or New Zealand, among other places.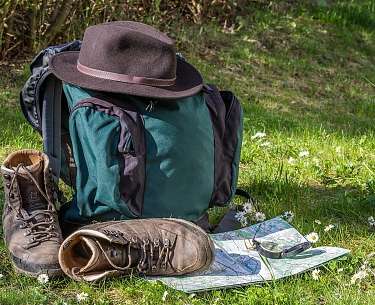 Nature experience
With its mountains, forests, meadows and lakes, the Sauerland is a recreational and adventure destination that you would like to explore by bike.
Smiling through the hilly landscape of the Sauerland is no longer a problem with the proper portion of tailwind that the electric motor gives the bicycles.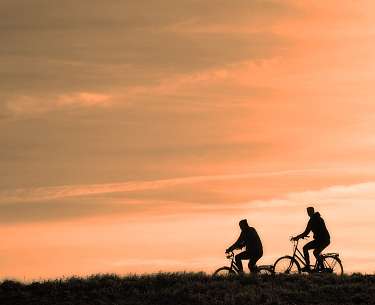 Mountain biking
Experience the beauty of nature in our Lössel forests. Activate your energies with our trainer on a Nordic walking/ or mountain bike course.
90 minutes 60,- €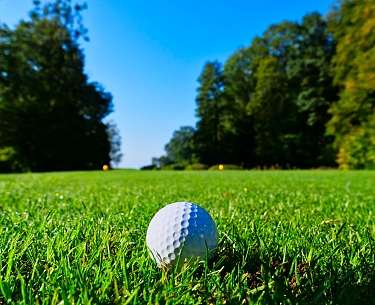 golfing
Golfers can improve their handicap on two courses in the area. The extremely well-maintained 18-hole championship as well as 9-hole short course of the Golfclub Unna- Fröndenberg is known as the most friendly and sociable golf club with a sporting ambition and is centrally located between the Sauerland and the Ruhr area. You can enjoy a picturesque view over the hills of the Sauerland from the Gut Neuenhof golf course with its 18-hole layout.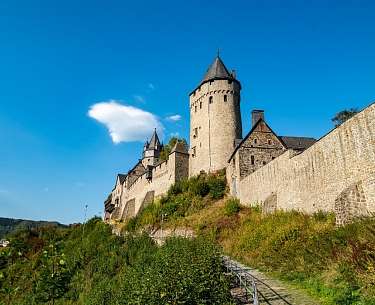 Highlights der Region
Mitten im Märkischen Sauerland, von einem Bergsporn in Altena herab, grüßt die wehrhaft wirkende Burg Altena mit ihrem zentralen Pulverturm und dem Bergfried. Als eine der schönsten Höhenburgen Deutschlands ist sie das Wahrzeichen der Stadt.
Ein Besuch in der Historischen Fabrikanlage Maste-Barendorf sollten sie auf jeden Fall einplanen. Hier befinden sich neben Künstlerateliers, der Haarnadelfabrik, der Gelbgießerei und dem bisher einzigen Nadelmuseum Deutschlands, auch ein Café zum Einkehren.
Diejenigen, die sich an Kunstobjekten und Ausstellungen nicht sattsehen können, haben mit den ansässigen Iserlohner Galerien zusätzliche Anlaufstellen vor Ort. Auch an Kunst in der Stadt mangelt es nicht. Auch die vielen Museen, die sich in Iserlohn verteilen, sind spannende Ausflugsziele für Jung und Alt - auch bei schlechtem Wetter.
Ein außerordentlicher Reichtum an Stalagtiten, Stalagmiten, Wandsinterkaskaden, Sinterbecken und kristallinen Ablagerungen erwartet den Besucher in der Dechenhöhle im Stadtteil Iserlohn-Letmathe.
"Forschen x Neugier = Spass²" lautet das Motto der PHÄNOMENTA, des spannenden Science-Centers in Lüdenscheid. Hier erlebt und erlernt ihr Grundlagen von Naturwissenschaften, insbesondere Physik und Technik, durch eigene Erfahrungen, durch Experimentieren und Ausprobieren.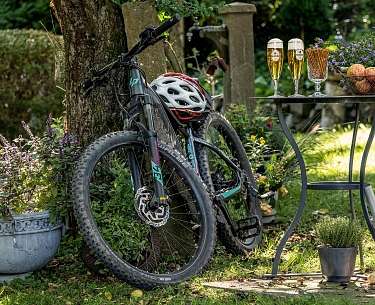 Mountainbike Erlebnis
Erleben Sie die Schönheit der Natur in unseren Lösseler Wäldern. Aktivieren Sie Ihre Energien mit unserem Trainer auf dem Mountainbike Parcours.
90 Minuten 60,- €
Yoga Retreat
3 Tage Yoga & Soul
3 days of yoga and wellbeing - strolls, wellness, sauna and healthy, good food - the foundation + motivation for your health.
Round table discussions 2024
with Herman Reichold
Simply listen, taste and savour. To mark the opening of his exhibition at Hotel Neuhaus, the well-known pop-art artist Herman (Reichold) is serving up a special table talk "menu" that will delight all the senses. For each course, Herman will serve up a new story, anecdote or curiosity from his life in conversation with Niels Gamm.
- incl. menu and water. Tickets can be purchased from us :-)
Stylish gift ideas for very special moments
Welcome to our download area
Our guests experience us like this
Romantik Hotel Neuhaus
Familie Neuhaus
Lösseler Straße 149
Germany-58644 Iserlohn-Lössel
DE - Sauerland region -

Take the B7 in the direction of Iserlohn. 1.5 km after leaving Hemer, take the A46 towards Hagen until you reach the Iserlohn-Zentrum exit.
Turn right and get into the left lane on Dortmunder Straße.
Turn left at the next traffic lights onto Hellweg. After approx. 2.5 km (3rd traffic light) turn right and then immediately left (180 degree turn).
After 1 km take the 2nd exit at the roundabout. After 50 m turn right directly behind REWE into Lösseler Straße. You will reach the Romantik-Hotel-Restaurant Neuhaus in Lössel after approx. 3 km on Lösseler Straße 149.